WWE SuperCard – Multiplayer Card Battle Game
4.2.0.297384
Card Battle Game – Beat Your Opponents Cards and Win
If you are a fan of the WWE and have an interest in playing card games then you would find this card battle game to your liking. WWE SuperCard – Multiplayer Card Battle Game is an entertaining game in which you get to battle with other players using cards of your favorite WWE superstars. It lets them experience the same thrill of battle that wrestlers experience in the ring. However, instead of using brute strength, you have to outmatch your opponents on the basis of strategy in this game. You have to select and use your cards intelligently during each battle if you want to come out on top. This is a large game and requires a lot of storage space. So, make sure that you have ample room available on your internal memory or SD card before downloading it.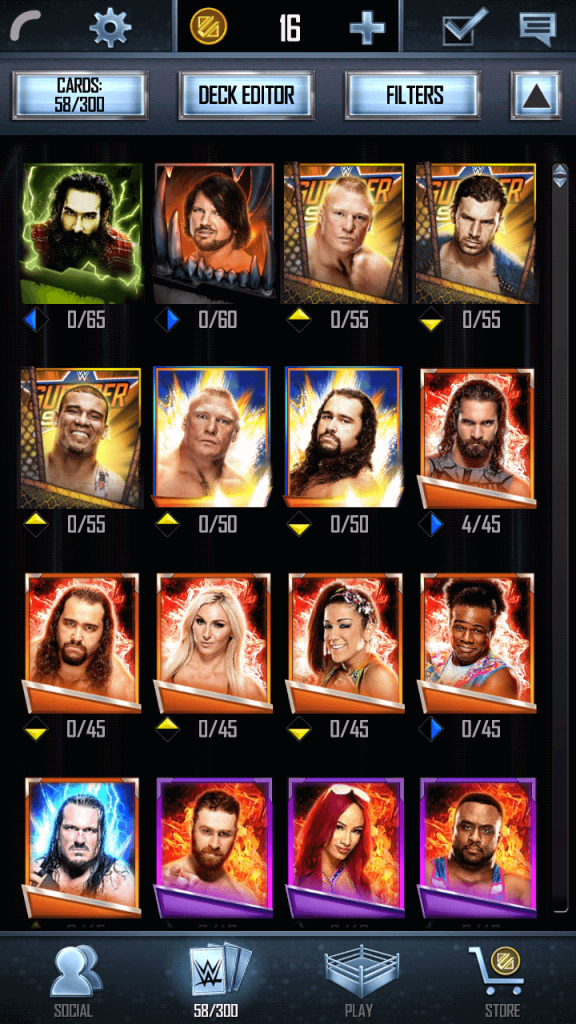 WWE SuperCard – Multiplayer Card Battle Game mixes intuitive gameplay with nice graphics. This enhances the playing experience and ensures that the players enjoy playing as much as winning. The main idea of this card battle game is to collect cards of WWE superstars. There are cards available of legends of the sport as well as contemporary wrestlers that are competing at the moment. Each card has its own value which is gauged by its stats. The better the stats of a card are, the more your chances of winning a battle. These cards can be obtained from the draft board which appears after every battle take part in. You can get cards from card packs that are available in the shop section of the game too.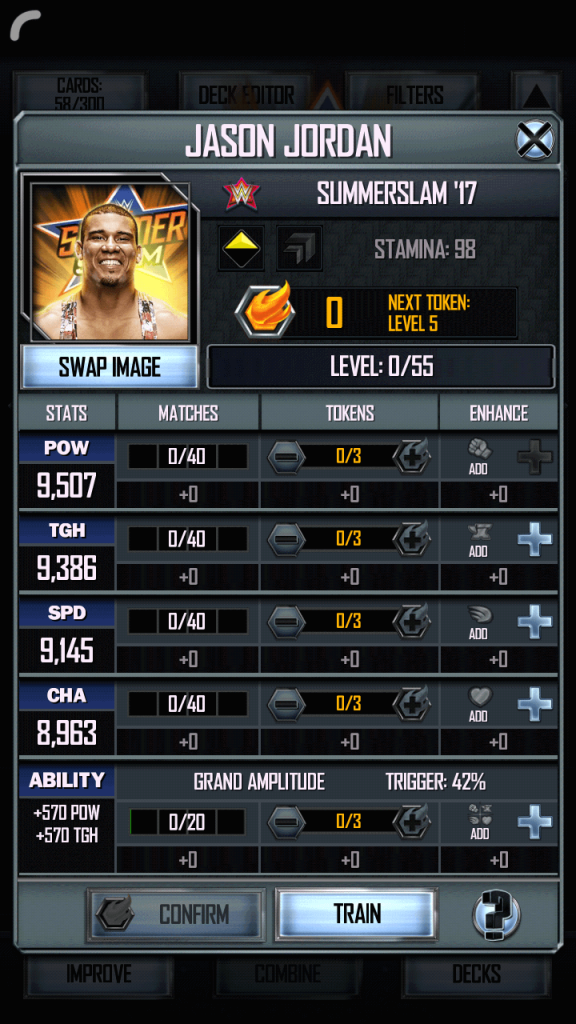 In this card battle game, you have different tiers of cards on offer. The higher tier cards are rarer and difficult to obtain. However, you can improve the existing lower-tier cards in your deck too. You can do this in one of two ways. First, you can make use of enhancement cards. Like the superstar cards, these enhancement cards can be drawn from the draft board as well as obtained from card packs. These cards can enhance one or more stats of your card and make it more formidable. The second method of improving a low-tier card is to combine it with other low-tier cards. This method is useful when you have multiple low-tier cards in your deck that aren't currently in use.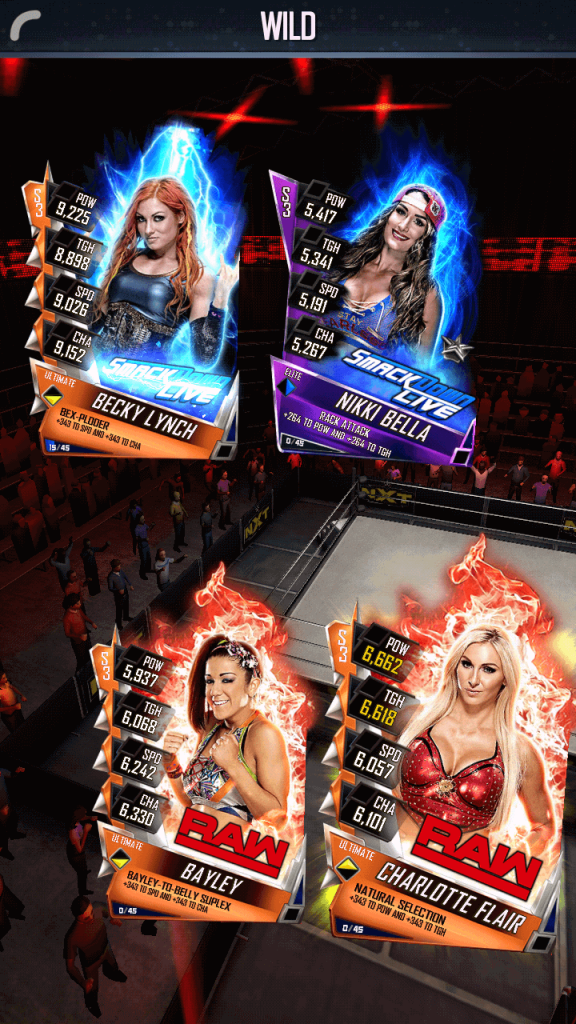 WWE SuperCard – Multiplayer Card Battle Game offers multiple game modes to you. Since it is a multiplayer game, you need to have a constant internet connection to play this card battle game. There is a classic PvP game mode called Wild in which you get to take on other online players in a 'best of 3' battle. Any player who is able to win 2 out of the 3 battles will win. You also have the chance to take part in tournaments like King of the Ring where you need to battle multiple opponents. This is where strategy comes in. You have to strategically use your cards if you want to win the tournament. There are limited-time events that you can participate in from time to time. Participation in these events can reward you with rare high tier cards.
Features:
Multiple game modes
Battle online players in Wild mode
Take part in King of the Ring tournaments
Various limited-time events to participate in
Lots of different superstar cards to collect
Option available to improve your cards
Combine cards to make them stronger
Conclusion:
WWE SuperCard – Multiplayer Card Battle Game is a gaming app which is marketed towards people who are passionate about wrestling. It offers them the opportunity to collect cards of WWE superstars and utilize them for battling online players from all over the world. It is an excellent card battle game and you should definitely give it a try especially if you love playing card games.
---
Add a review
Tell us your experience with
WWE SuperCard – Multiplayer Card Battle Game
4.2.0.297384
RELATED PROGRAMS
Our Recommendations
---
---
---
---